AI is helping Singapore achieve food security. Here's how.
A new collaboration between the Singapore Food Agency and Singapore's Government Technology Agency is helping automate tedious agricultural workflows using AI, helping the nation get one step closer to its '30 by 30′ food security goal.
Captive fish farms run by Barramundi Group at St John's Island receive live fish feed supplies from the Marine Aquaculture Centre. Image: Barramundi Group.
Singapore's founding leader Lee Kuan Yew once famously remarked that Singapore's only available natural resource is its people. Decades later, the island state's people are looking to change this fact.

The island state currently imports more than 90 per cent of its food from more than 170 countries. Episodes such as the nationwide chicken shortage when Malaysia banned exports in June 2022 have made clear that in a time of unprecedented climate risk and unpredictability, the nation has to strengthen its food security one way or another.

The Singapore Food Agency (SFA) has launched a "30 by 30" strategy – a plan to produce at least 30 per cent of the nation's local nutritional needs locally and sustainably by the year 2030. SFA aims to materialise this plan using three broad "food baskets": Diversifying import sources, growing local produce, and growing overseas (expanding local companies across borders and exporting food back).

But being a land-scarce little red dot, Singapore looks to technology to surpass the agricultural productivity of traditional farming methods.

GovInsider explores how a revolutionary new collaboration between SFA and Singapore's Government Technology Agency (GovTech) is enabling the country to grow more with less by automating agricultural work flows – starting with optimising fish feed productivity using AI.
Fishing for solutions
In one of Singapore's Southern Islands, St John's Island, lies the Marine Aquaculture Centre (MAC). Established in 2003, MAC aims to achieve Singapore's food security goal by deepening Singapore's expertise in aquaculture and building up an R&D ecosystem with research institutions and agricultural companies.

Among others, MAC is leading a selective breeding programme for the Asian sea bass alongside the Temasek Lifesciences Laboratory (TLL). Using DNA markers, scientists have managed to breed three genetically superior fish lines – one fast growing, one disease resistant, and one with higher omega-3 content – all without the use of genetic modification.

When growing in a controlled environment such as an indoor farm, these fish are less exposed to the effects of climate change, pollution, and diseases, said Dr Yue Gen Hui, Senior Principal Investigator at TLL previously.

A key part of the fish farming process is producing quality fish feed. At MAC, researchers have adopted an intensive indoor production system for local rotifer hatcheries. Rotifers are small marine organisms (zooplankton) that serve as live feed for captive fish farms.

"In captive environments, live feed is very important in supporting marine aquaculture. Like human babies, fish fry (baby fish) become much more robust and grow better when you give them the best feed at a young age," Dr Liew Woei Chang, Assistant Director of SFA's Urban Food Solutions Divisions, Aquaculture Department, tells GovInsider.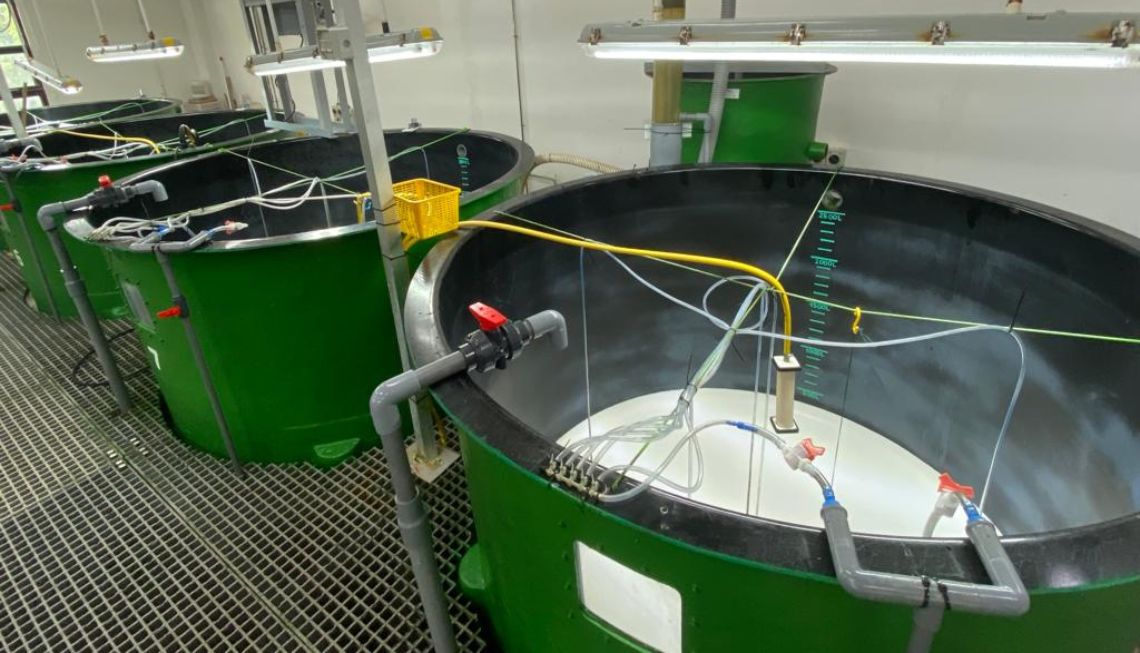 "It is important for us to know exactly what the density of rotifers is in our cultures at any point of time. If we underfeed them, there might not be enough rotifers, if we overfeed them, the water quality will turn bad," Liew explains.
Netting the benefits of AI
As Singapore ramps up production and farms increasingly set up their own live feed hatcheries, scalability becomes a concern. The process of manually counting rotifers from culture samples was a very laborious process – until GovTech created an AI solution, says Liew.

"We work with different government agencies to see how we can help to improve their workflow," says Tan Kai Wei, software engineer at GovTech.

Tan says that GovTech's Data Science and Artificial Intelligence (DSAID) team did not come with the aim of forcing AI into workflows. Instead, they first arranged a site visit to explore the various work stages, and identified an especially tedious process that could be easily automated.

"By that point, image recognition using AI was already a mature technology that we could leverage," Tan tells GovInsider.

Within 6 months, his team trained an existing real-time object detection AI model, YOLOv3, to count rotifers at a 90 per cent accuracy level. "We do not reinvent any AI engines from scratch, but instead build technologies from open source libraries," says Tan.

By feeding the model about 100 properly tagged image samples, the programme is now able to reduce the rotifer counting process from a daily 40 minute chore per sample to a one minute affair.

The app, which will be named I-lytics when used at scale, is designed to be user-friendly for farmers on the ground.
"Ultimately, our end consumers are farmers who may use different phone models with varying camera qualities. So during the data processing stage, we acquired photos taken using the most commonly used phones, and distorted the images to ensure that the AI is still robust enough to accommodate variations in image quality," says Tan.
A byte of government solutions
At this juncture, I-lytics will be available on local servers for farmers who are keen on using it, says Liew. But the scaled version of the fish feed counting programme will run on cloud computing and be highly scalable and cost-effective, according to Tan. Users will be able to immediately receive new software updates and experience minimal lag time since it will be connected to a central server.

With AI, the possibilities are endless. Tan says that GovTech is similarly working to automate workflows for other government agencies, such as identifying and counting rodents using CCTV cameras across Singapore's drainage system, and counting pedestrians to assess pathway effectiveness.

GovTech has launched a Video Analytics System (VAS) to help government agencies self-service their video analytics needs for the increasing the amount of video data collected every day. "We hope that this platform will support and encourage more innovation, and more importantly improve the productivity of government work," says Tan.