How Singapore is fighting fire with robots
COL Leow Chew Hong, Director of the Transformation & Future Technology Department, SCDF shares how tech is enabling new ways to approach emergency services.
In the 2009 film Surrogates, people control robotic versions of themselves throughout their day to day lives. One benefit is that society is safer, as these robots can face danger and risk without the controlling individual being harmed.

While robots today may not be that advanced, they can still help in dangerous situations and reduce risks faced by humans. Singapore's Civil Defence Force (SCDF) is exploring how robots can help in emergency situations.

COL Leow Chew Hong, Director of the Transformation & Future Technology Department, SCDF discusses the organisation's latest innovations. He shares how tools like drones, digital twins, and wearable devices are changing how Singapore's emergency services go about their work.
Calling in robot responders

"By 2030 we hope to deploy more robots on the ground to assist the firefighter," says Leow. Robots can protect the safety of firefighters, as they will take over some of the work in dangerous situations, he explains.

Robots can travel closer to fires than human firefighters, making them ideal for use in emergency services, shares Leow. They can spray water, detect fires and provide ventilation to extract smoke, he highlights.

The SCDF is also exploring the use of drones to help respond to emergency situations. They can gather information about the incident site before human responders arrive, he explains. The organisation is currently trialling the use of drones to put out fires, he adds.


While robotics can offer services that humans cannot, such as flying through the air or withstanding blistering temperatures, they can also support humans in their work. The SCDF is exploring exoskeleton suits, which help humans to carry heavy weights.

Emergency responders face "demanding" work, especially lifting heavy objects. These suits will allow responders to take on this work but with less strain on their body, he explained.

The suit uses a mechanical system to provide this additional strength. The joints of the suit store energy when the wearer leans forward, and then releases this energy as they stand up, giving them a boost of power, the Straits Times wrote.
Training the next generation lifesaver

Technology is helping to train the SCDF's staff, he adds. The SCDF is exploring the use of digital twins, virtual simulations of physical objects or situations, to train the next generation of lifesavers, Leow says.

First, digital twins can provide simulations of emergency situations. It enables trainees to practice their decision making skills in high pressure situations.

Second, virtual simulations of Singapore's buildings and roads could also be created. These provide a 3D understanding of a building's structure, as compared to a 2D floor plan, for example.

This could include the streets near buildings. Understanding the surrounding area lets firefighters know where the nearest fire hydrant is and where the best place to stop the emergency vehicle is, Leow shares.

The SCDF has also created a training center, named the Emergency Responders' Fitness Conditioning & Enhancement Lab (ExCEL). One part of the lab is a gamified virtual experience to test emergency responders' physical and mental capabilities.

It tracks responders' physical activity as they react to situations shown on screens around them. This helps trainers to evaluate users' situational awareness in emergencies and the way they move, helping them avoid future injuries.

Another part of ExCEL is a chamber which mimics different temperatures, humidities and wind speeds. This helps to prepare responders for overseas deployments, where they may face unfamiliar and inhospitable weather conditions, he shares.

ExCEL training also includes studying the brain and eye activity of responders to help them assess emergency situations. Through head-mounted sensors and cameras, the lab can identify if individuals are likely to be distracted in these situations and helps train them to have more focus.

Cameras can also be used for early identification of Post-traumatic Stress Disorder. SCDF teams can study behavioural patterns of responders in crisis situations and intervene early if an individual may be suffering from the disorder.
The future workplace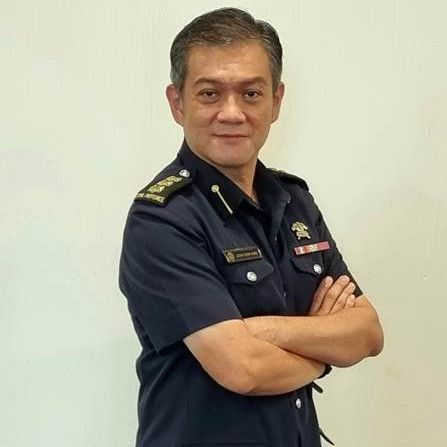 The SCDF is adopting technology to monitor the safety of its staff within the workplace. It is issuing all frontline staff with a smart watch that records their baseline heart rate. This makes it easier to identify those who need assistance or medical attention, Leow shares.

The organisation is also piloting the smart fire station, which integrates digital tools into its daily workings. For example, IoT sensors will help measure the fuel and foam levels of equipment, wrote GovInsider.

The smart fire station concept is being trialled at one location so far. It is being used as a testbed for the adoption of new technologies, and serves as a blueprint for what the future workplace will look like for next generation lifesavers, he continues.

Emergency responders are ready to face crisis situations to ensure the safety of citizens and the nation. However, technology can help reduce the risks they face, and ensure they are prepared to tackle these emergencies head on.

Images of firefighting robot and flying drone from the SCDF website.

Image of COL Leow Chew Hong, Director of the Transformation & Future Technology Department courtesy of SCDF.